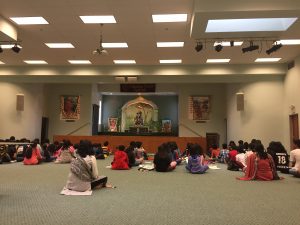 Mission activities started in Bakersfield in 1985 when a few families met every other week in people's homes to sing Bhajans and tell religious stories to children. This group gradually grew to 15 families by 1990. Also, in 1985  Pujya Gurudev Swami Chinmayanda Ji visited Bakersfield for one lecture at Cal State University. Although this was one discourse Gurudev planted the seed that will later blossom into a fully functioning Chinmaya mission center.
Chinmaya mission Bakersfield
The Chinmaya mission movement in Bakersfield truly started in January 1992 when Pujya Guruji Swami Tejomayananda first visited our town for a weekend yagna. At that time, he was Acharya of Chinmaya Mission San Jose. Over the next year and a half he made several trips to Bakersfield. People were very inspired by his discourses and gradually the attendance grew. Guruji continued to visit Bakersfield every two years or so and has been instrumental in promoting the growth of the center.
Swami Chidananda became the Acharya in San Jose in 1993 and paid several visits to Bakersfield over the next 5 years. In 1993 we also started regular Balvihar classes and adult study groups. These were originally held at CBCC and then shifted to the Hindu temple in 1997. These classed continued to grow and we now have approximately 100 families and 160 children attending Balvihar and other activities of Chinmaya mission at our Bakersfield center and Satellite center (Visalia and Santa Maria)
However, the person most responsible for Chinmaya mission Bakersfield growth has been swami Ishwarananda. During his 5 years as Acharya at Chinmaya mission Los Angeles from 1996 to 2001 he paid regular visits to Bakersfield for Jnana yagnas, inspiring teachers, adults, and children. Swamiji also has been instrumental in guiding us towards realizing our full potential as Chinmaya mission center. Since his return from India, Swamiji continues to instruct and inspire us.
Besides Balvihar and adult study group, CM Bakersfield also conducts activities like: lecture series by visiting acharyas, annual youth camp, retreats for adults; Diwali Mela, annual seminars on stress management and meditation (in collaboration with Bakersfield memorial hospital—approximately 200 people attend this event), Bhajan Sandhya (Second Friday) and Ramayan Paath( Other Fridays ; and weekly classes on meditation, Gita chanting, languages( Hindi and Gujarathi) and Yoga. Daily worship of Gokul Krishna is offered by volunteers at the shrine.
We were registered as a California religious corporation in December 2003. The land for the center was originally purchased in 2000. In 2003, we applied for a conditional use permit with Kern County. There was some opposition from the neighbors. After legal discussions, we were able to settle all differences and come to a reasonable compromise.
Bhumi pooja for the new building was held in Pujya Guruji's presence on June 12, 2005. Construction of the facility was completed on schedule. Pujya Guruji very lovingly called this Chinmaya Gokul, with the presiding deity being Lord Krishna. Chinmaya Gokul was inaugurated on July 9, 2006 by His Holiness Swami Tejomayandaji. This 1000 sq. foot facility consists of an assembly hall, 8 class rooms, acharya's quarters, a library/book store, kitchen and dining room. With the Lord's and Pujya Gurudev's blessings, we hope to continue the work of spreading Pujya Gurudev's message to Bakersfield and San Joaquin Valley community. Our heartfelt thanks to everyone who contributed to the growth of this center financially or through their volunteer work